Kirloskar Oil Engines signs MOU with RITES to explore common business interests
Date : December 16, 2022
Gurugram, December 16th, 2022: Kirloskar Oil Engines (KOEL), a leading Engineering, Power Generation and Solutions company, signed a memorandum of understanding (MoU) with RITES Ltd, a leading Transport Infrastructure Consultancy and Engineering company, to jointly explore business opportunities for products/solutions in the areas of Export of Railway Rolling Stock, Infrastructure and Urban Transport for the domestic and overseas markets. Through this MoU, KOEL will leverage its R&D expertise, manufacturing acumen, state of the art manufacturing facilities,supply chain network and strong channel to develop, manufacture and supply products for RITES customers, while RITES will provide expertise in design, marketing, operation & maintenance, and any other support required for tapping business opportunities.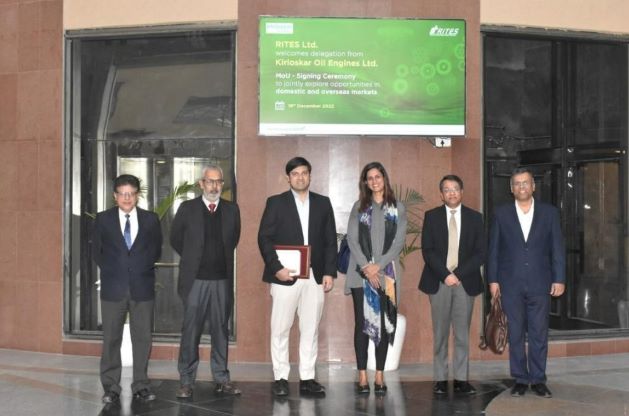 (From Left to Right) Mr. Rajeev Choudhary, Group General Manager (Expotech) RITES, Mr. Manobendra Ghoshal, Chief Strategy Officer, RITES, Mr. Rahul Sahai, Chief Executive Officer – B2B Business, KOEL, Ms. Gauri Kirloskar, Managing Director, KOEL, Mr. Rahul Mithal, Chairman and Managing Director, RITES, Mr. Vinod Menon, Vice President – Industrial Business, KOEL, at the MoU signing between KOEL and RITES at Gurugram
Mr. Vinodkumar Menon, Vice President, Industrial Business, KOEL said "The strategic partnership between KOEL and RITES leverages the strengths of both the organizations. While we at KOEL are focused on developing world class products and services, RITES has great design, technical expertise and marketing capabilities. We truly look forward to a long and fruitful association"
About Kirloskar Oil Engines Limited (KOEL)
Kirloskar Oil Engines (KOEL), is an acknowledged leader in the manufacturing of diesel engines, agricultural pump sets and power generating sets for over 75 years. KOEL is an engineering driven organization focused on power generation from various energy sources, and in products that use power to meet the various needs of the customers through applications like gensets, engines, pumps and farm mechanization equipment. The company has a sizeable presence in India and in international markets, with offices in USA, Dubai, South Africa and Kenya and representatives in Indonesia, Vietnam and Nigeria. KOEL also has a strong distribution network both in India and in many countries around the world.